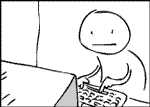 Yup, that's right after all my angst and work and revisions, TWRP gave me their decision last week concerning my resubmission of
Claiming Her Cowboy
. It was a very nice... brush off. She basically told me that even after I had made the revisions she suggested, and that the story was so much stronger and the conflict was great, that even after all that it just wasn't a good fit for their line. Which, while it sucks, it doesn't. They did in fact tell me that they "enjoyed your writing" and that I would "make it in the publishing industry" which could be platitudes but they made me feel better. Yanno?
So, I'm looking at submissions guidelines for the following pubs:
Respendance Books
Samhain (because Mysti said I should)
and I'm looking through some others.
Anyone got any suggestions for ePublishers I should submit to? You don't want to go someplace that doesn't have a good reputaction, yanno? Any suggestions?